承包商表示不值得冒逃避认证的风险
2023 年 7 月 6 日 / General, Installation and testing, Best Practices
Network cable certification may be required by the job specification or for a long-term warranty from a cable supplier. If it's not required, have you ever skipped this critical step?
You might want to reconsider after you read what these three very different contractors have to say about why they always certify their network cable installations — and why you should, too.
Certification is your best protection
"Everybody starts pointing fingers when things don't work, and if you don't have the certification testing documentation, you're dead in the water," says John Oliver, ICAT (information, communication, and automation technology) project manager for EllisDon, a large Canadian general contractor.
"It's a requirement for every job we do," Oliver continues. "As a general contractor working on large commercial projects, sometimes we have to eat the cost when there's an issue because it's not worth the risk of paying liquidated damages for not meeting the timeline. But for the cabling subcontractor, certification testing is your backup."
Ed Dannenmueller, veteran technician and foreman with Black Box, couldn't agree more. "I have hundreds of jobs on my laptop in my LinkWare® software platform that I can look at by job number, customer name, and location. I might get a call from a customer five years after a project claiming an issue is due to the cabling, but I can pull up the results and prove that it wasn't my problem. It's my insurance," he says.
Once a structured cabling system is installed, issues can occur for many reasons, including other trades working at the site. Oliver describes one recent hospital project where a sprinkler pipe blew during fire system testing and soaked more than 300 cables. "We thought it would be okay, since the site team immediately cleaned up the water and dried the cables. However, because we had the initial certification test results, we could show that the water absorbed by the cable degraded the performance."
Sometimes problems with the cabling infrastructure can even be caused by technicians responsible for deploying the network equipment and getting the systems up and running.
Jeff Endemann, RCDD, Tech and owner of Ohio-based JE Technical Services, recalls a school project where the networking team couldn't get the system working and tried to blame it on the fiber cabling.
"We went back out, cleaned the fiber, and tested again. A week later, they had the same issue," Endemann recounts. "When I returned to the site, there was a networking engineer with a fiber jumper in his mouth and one end dangling on the floor with no end cap. He actually told us that he just 'licks the connector and rubs it on his shirt' to clean it. Thankfully, we had the test result to show that the problem wasn't because of us."
Certification is an ideal troubleshooting tool
"Certification test results are the first thing we go to for troubleshooting," says Oliver. "They give us the confidence to move on to the next step and check switch configurations and other potential causes.
"Without them, troubleshooting is like finding a needle in a haystack," he continues. "In fact, I just used results today when we encountered a problem. I pulled up the results based on the cable ID and had a benchmark to work from."
Certification testing is also an ideal way for new tenants to verify that an existing network will support their needs.
"We can often tell right off the bat what we're dealing with by how bad or good the cabling looks, but certification testing is how we can verify if the cabling definitely needs to be replaced — even if we're not doing it for a cable warranty," says Endemann.
Cabling manufacturers require proof of certification to grant a warranty and confirm that their certified installers' workmanship is up to par. Contractors can also use certification testing to prove their installation was done correctly or to check on the quality of their technicians' work.
"While certification testing is mostly driven by those that want a warranty, I also look at it as a tool to double check our work and ensure that the team is getting 100% quality results," says Dannenmueller.
Oliver points out that nothing can hide from the results of a Fluke Networks Versiv® cable certifier. "With PoE and high-speed data running over all four pairs, everything needs to be much tighter these days. If we see a group of links that tested beautifully and another with all marginal passes, we know it's a workmanship issue," he says.
"The beauty of a Fluke tester is that it's all there," Oliver continues. "We can look at the time stamps and determine that a technician didn't run all the way to the other end of a building in one minute to test a link, or we can determine if the tester was out of calibration. We're currently dealing with a project where the contractor tested with an uncalibrated tester, and there is a good chance they will have to retest."
Certification can be a real revenue booster
"You're better off certification testing now rather than later. If you don't have the results, you could be going back for five years to fix problems at your own expense," cautions Oliver. "Pulling techs off an existing job to address an issue on a past job is a huge cost that eats right into your bottom line. But with certification test results, every issue is revenue."
Dannenmueller agrees that if you want to be successful, you simply need to certify. He also recommends using Fluke Networks LinkWare software to manage certification results.
"In the long run, it means more money. Since I already have information for a site on my laptop, the customer likely isn't going to go with another contractor.
"And if they are having network issues, we can show them the original test results and help them fix the problem — at a cost," he says. "Smaller contractors that can't afford a tester can always rent one and make testing part of the bid. And if you don't know how to use the tester, get trained. Fluke Technical Assistance Center experts are outstanding, and their expertise rolls downhill. They're so good that they make us better."
If you're not convinced by now…
If these three contractors' experiences don't convince you of the value of certification testing — and the risks of skipping it — you may change your mind when you get stuck paying thousands of dollars for someone else's mishap.
We can help you get started before that happens.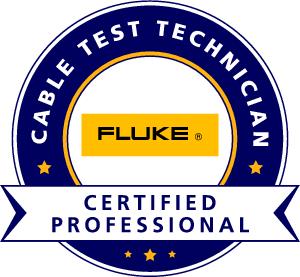 继续学习
Powered By OneLink